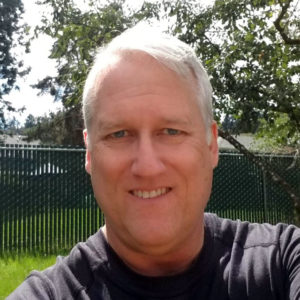 He/Him
Therapy is at best, two folks spending time together, feeling safe and connected.
My approach for thirty years, in settings from the wilderness to classrooms and offices has been to support that felt sense of safety and to help people experience authentic relationship. Our bodies unconsciously decide from moment to moment am I in danger or it's safe to connect. If I don't have to fight or run or freeze to be safe then I can be open to learn, to engage and to heal.
I work with ages 13 – 64, co-parents and families. I support you to learn and practice new ways of feeling ok and building relationship. I enjoy using experiential activities indoors and out to engage folks beyond only sitting in chairs and talking.
I was born and raised in Kentucky and worked in many experiential and wilderness programs with teens before completing my Bachelors degree at The Evergreen State College and Masters in Social Work at Arizona State University. The past twenty five years I've had training in many approaches including addiction treatment, trauma informed therapy, attachment, Collaborative Problem Solving and Equine Assisted Psychotherapy. Most importantly, I'm experiencing the joy and challenge of co-parenting young adult twins (female and male).
Licensed in Oregon.
Teletherapy and in-person.
(503) 966-4602 in the West Linn office
(503) 286-7909 (fax)
"Courage starts with showing up and letting ourselves be seen"

– Brene Brown
Issues Treated
Adoption challenges for parents and youth
Complex trauma and PTSD
Addiction recovery
Mood disorders — depression and anxiety
Family conflict
Teen struggles with self, school, family
Co-parent conflict
Treatment Techniques and Approaches Used
Experiential Therapy (active and often fun)
Attachment theory approaches
Adoption and Foster Family Therapy
Interpersonal Neurobiology
Trauma informed therapy
Collaborative Problem Solving (Tier II trained)
Polyvagal Theory
Drumming
Mindfulness (Self compassion and gratitude)
Group therapy
Experiential Therapies
I have a small separate, private pay practice, that uses experiential adventure based modalities and outdoor settings that are not covered by insurance due to expense or length of service. The core of my "office" based work is the same.
To learn more, please visit https://lifestreamtherapy.net.